WISP - a newbie with a classic yacht dress and a wisp of history feel.
Wisp pictures by Cory Silken and Carlo Baroncini
The Dutch shipyard Royal Huisman launched the beautiful Hoek design with interior styling by Rhoades Young earlier this year. Now Wisp is back from her maiden voyage in Norway with a pack of images and more information for the public.
Royal Huisman and Hoek Design accepted the challenge to develop a gentleman's sailing yacht with much comfort for long voyages and enough speed to show her stern to other yachts.
Her cutter rig was built by Royal Huisman's subsidiary Rondal in carbon composite. The cutter-rig sail-plan was designed for balance and simple handling while cruising and the possibility of using overlapping genoas for racing, with much thought going into the track positioning and winch sizes to handle the increased loads and speeds during regattas.
The result is an uncluttered expanse of teak decking fore and aft with few obstacles to disturb the sense of harmony. Indeed, throughout the yacht's exterior woodwork has been rationalized by examining and simplifying every joint and detail to create calming guest areas with plenty of hidden storage and an efficient navigation cockpit. Instead of the more typical stranded wire, reliable stainless steel lifelines linking the deck- mounted stanchions provide non-sailors with an added sense of security and add an elegant, polished look.
Wisp features traditional waterfall margins between the teak decking and the superstructures – a detail requiring much thicker pieces of carefully selected timber to provide a consistent grain and perfect fit and finish.
The custom helm stations and steering wheels represent works of art in their own right. Various options were considered, from traditional all-wood to new wheels in carbon fiber. In the end, the graceful design was chosen with 20 polished stainless steel spokes, rimmed with delicate bead detail, which radiate from a central hub, itself clad with teak that has been lovingly milled and fitted by hand. Also, the detailing of daylight readable control panels and surrounding seating areas were designed to optimize space and present a visual impression of low volume.
Further deck space has been freed up by placing the Rondal winches for the main halyard, mainsheet and preventer below deck in a separate compartment adjoining the engine room, which can still be quickly accessed from the forward engine room entrance and monitored via CCTV cameras.
To ensure the 6.2m (20ft) owner's tender blends in with the sweeping sheer of the hull, it is partially recessed into a pocket on the foredeck. Another notable deck feature is the crew cockpit just forward of the mainmast. With a convertible car-style retractable dodger, protective coamings, storage and direct access below deck to the dinette, it provides a secure assembly point within easy reach of the deck equipment while under sail and a relaxing social area when at anchor.
Wisp's owner wanted a light, airy and calming interior. The owner calls it in one word: "jolly". Rhoades Young selected a light oak that has stained a soft honey amber to match the owner's personal taste.
 The owners have an own area in the aft of Wisp with an own deckhouse and own entry. But it is also accessible from the main deckhouse over the guest area which is between main deck house and owner's area. The owner's area has a full beam bedroom.
For guests is one cabin with two beds and two double bed cabins onboard. All cabins have an ensuite.
"From an architectural point of view, we created an unusual open-plan interior layout that is designed in layers to reveal itself gradually," says Jonathan Rhoades. "Below deck, you are lead from space to space and at each destination, the rooms feel resolved and complete. It is only on exploring further that you realize they open onto other spaces until finally all the layers are peeled back to reveal salons and cabins with huge sightlines through the various deck levels linking the interior and exterior."
Main Specifications of WISP
Length over all:
47.65 m
Beam:
9.50 m
Draft:
4.45 m
Exterior Design:
Hoek Design
Naval Architecture:
Hoek Design
Interior Design:
Rhoades Young
Engine:
1x Caterpillar C18 Acert / 533 kW (715 HP) @2100 rpm
Hull Speed
14 knots
Mainsail:
577 m²
Yankee Sail
527 m²
Blade Sail
457 m²
Staysail
236 m²
Multi Purpose Spinnaker
1252 m²
Fuel Capacity:
22.000 l (in 4 Tanks)
Tenders and Toys:
1x Williams 565 Tender Diesel Jet
1x Bombard commando C3 sports boat 15HP
Profile, Sail Plan and Layouts
SHARING IS CARING - THANK YOU!
About Publisher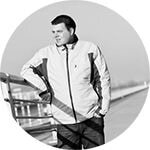 Ahoy, I'm René, the "captain" of this luxury yacht blog, and found my passion for the big ones at the age of 17. I have grown up with sailing since a little child. I have an education in Business Informatics and specialized in digital media solutions (alongside luxury yachts) like Online-Marketing, User Experience Design et cetera. My home port is in Oldenburg, Germany next to Lürssen and Abeking & Rasmussen. More about yachtemoceans