There are two kinds of people in the world: motor boat people and sailing yacht people. At least up until very recently, sailboats were seen as for the adventurous, those willing to sacrifice luxury for an experience out on the seas, whilst motor yachts were seen as the easier and much more opulent option. However, technology has apparently now come to a point where new sailing yachts can be as comfortable and luxurious as their engine-run cousins, leaving the yachting community to reconsider which side of the sailing yacht vs motor yacht debate they stand on. We speak to Paul Adamson, CCO of British bluewater cruiser manufacturer Oyster Yachts, to find out more.
The requirements for sailing yachts vs motor yachts are different, and the functionality of sailboats has typically constricted their design. Can today's sailing yachts promise as much luxury as equivalent-sized motor boats?
Definitely. When you look at power vs sail, you see that the type of people that motor yachts appeal to are inherently different to sailors. You wouldn't say that the interior of our yachts are exactly like that of a motor boat, but sailboats can certainly have equally beautiful interiors. At Oyster we work with incredibly experienced interior designers to create a space which is perfect for lounging, entertaining and enjoying – a home away from home – and from that point of view our sailing yachts are definitely on a par with with motors. We also have all the latest technology onboard, from televisions to audio equipment and anything else you could possibly want, as we know that some of our sailors will spend months on board and we want to make it as comfortable as their land-based homes. Every part of our vessels have been carefully considered and designed with luxury in mind.
The main difference in building luxury sailing yachts vs motor yachts is that a motor boat doesn't generally travel that far. They tend to go up and down the South of France, off to the Caribbean where they hop around islands, and some might go off to do further exploring. But sailing is a different thing, more off the beaten track. What this means in terms of design is that you won't find so many ornaments on a sailing yacht, purely because it leans over 35 degrees. But I think in terms of quality of spaciousness and a feeling of luxury, our sailboats have it nailed.
Do you think the new luxury appeal of sailing yachts will convert even more people into being sailors?
This is something we talk about all the time – if someone today wants to get into boating, and they reach the level to buy a motor boat or an Oyster, or indeed another sailing yacht, what makes them choose between motor yacht vs sailboat? I think what it boils down to is that people look at motor vessels and recognise that there is less skill involved comparatively to operate them. It's much more similar to driving a car, something which many adults already know how to do. However, with sailing, people often say it's a completely different language, and you certainly have to learn some new skills. You can't just get on and know how to sail, you need to do some training.
I think this is probably the main thing that pushes people towards motor boats, though maybe sailing yachts also have a rough-and-ready perception, whereas motor boats seem sexier, faster and relaxed. Either way though, our sailing yachts are both super luxurious and have the option to be crewed, meaning that you don't always have to know a whole lot about sailing before you set off on your first adventure. Whilst our smaller boats can accommodate just one crew member, our bigger models – so the Oyster 675, 745, 885 and the 1225 – all have room for a full professional crew onboard. This means sailing can be just as relaxed as for an owner and their guests on a motor yacht, but with the opportunity to learn more as you go along and escape to more exciting unexplored destinations.
What about sailing's appeal as a more eco-friendly way of boating?
As sailors we get to explore the farthest corners of the earth, experiencing incredible natural beauty every day. We have the ocean to thank for being able to reach these locations, and it is only right that we protect our seas and the surrounding environment as much as possible.
Sailing already has the advantage of being more environmentally-friendly than motor boating: we don't need to have the motor running at all times to get where we need to go. However, we try to go beyond the normal power vs sail advantages. At Oyster we are currently in the process of making our owner regattas greener, working with the Sailors for the Seas Clean Regattas programme to ensure our sailing events are sustainable. We are also always looking out for further opportunities to make our luxury sailing yachts more eco-friendly with new power sources (e.g. hybrid).
So is Oyster aiming to convert motor yacht fans to the brand?
I think we could even take people who fall firmly on the side of motor in the sailing yachts vs motor yachts debate, put them on an Oyster and they would immediately see all the incredible benefits of sailing. It is so much more relaxed, plus its quieter, doesn't lead to big fuel bills, doesn't mean big marina bills, offers better options for off-the-beaten-track exploration, and truly is just as luxurious.
But we're definitely also here to say that sailing is open for all and to encourage those who are new to boating to try it. It's a brilliant sport in the way that you can buy a dinghy for £500 and get on the water, or you can buy one of our incredible Oyster yachts.
Interviewer: Colette Flowerdew-Kincaid
Learn more on oysteryachts.com
SHARING IS CARING - THANK YOU!
About Publisher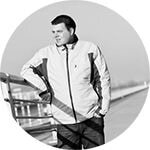 Ahoy, I'm René, the "captain" of this luxury yacht blog, and found my passion for the big ones at the age of 17. I have grown up with sailing since a little child. I have an education in Business Informatics and specialized in digital media solutions (alongside luxury yachts) like Online-Marketing, User Experience Design et cetera. My home port is in Oldenburg, Germany next to Lürssen and Abeking & Rasmussen. More about yachtemoceans