Adler Suprema is a 23m flybridge motor yacht that leaves beaten paths in its class. The yacht has modern materials like carbon fiber, Kevlar, and fiberglass – even the propellers. Also, state of the art technology like a hybrid propulsion system to enjoy a journey with less noise and vibrations and economical fuel consumption. The 5,200-litre tank offers a transatlantic range of over 3,500 nautical miles at 8 knots. But if you need, the Suprema has a top speed of 30 knots.
The interior is pure luxury for this size and has a spacious main saloon with an area with lounge sofas and big windows to connect the inside with the outside. That area transforms also into a cinema. Next to that area is a dining area for up to six people.
Alessandro Barizzi, CEO of Adler Yacht, commented:
"We set the bar very high for ourselves with the Suprema, and we feel we have produced many technical aspects of a larger yacht, integrated into a smaller, 'entry level' yacht in terms of size. Adler Yacht will continue to evolve the design and review everything that we have done, particularly from a technical standpoint, to push ourselves further. In terms of the yacht's interior, we really hit the nail on the head when it comes to the layout, design, and materials used."
The lower deck accommodates a full beam master suite with walk-in wardrobe and ensuite bathroom amidships. Two other double suites are located at the bow and the stern.
Monitoring and controlling are possible via tablet computer – even when not on board. The hybrid propulsion system is powered by twin Caterpillar diesel engines and twin ATE 100 KW e-engines. Electric mode is available for up to 60 minutes at 8 knots. Fully rechargeable in one hour.
Update August 31, 2017:
The HMS (Hybrid Marine System)  – part of Adler Yacht where you can also order only a hybrid propulsion system – with some software and hardware modifications and reduced the fuel consumption. The yacht needs just 11 liters per hour at 8 knots and 66 liters per hour at 12 knots. Furthermore, the yacht got an e-anchor aka dynamic positioning system to hold the position without using the traditional system. A great advantage when water is too deep to use the anchor or in areas where it is forbidden to use the physical anchor.
Main Specifications Adler Suprema
Length over all:
23.11 m
Beam:
6.04 m
Draft
1.75 m
Material:
Carbon Fiber, Kevlar, Glass Fiber
Exterior Design:
Nuvolari Lenard
Interior Design:
Nuvolari Lenard
Displacement:
49 t
Guests:
6 - 9
Crew:
2
Range:
>3,500 nautical miles @ 8 knots
Fuel Consumption:
11 L @ 8 knots
126 L @ 15 knots
160 L @ 17 knots
Max. Speed:
30 knots
Adler Yacht is working on an evolution about the Suprema – The extended version with a longer bathing platform.
Carlo Nuvolari and Dan Lenard
How did you come to be involved in Adler's first project, that of the Adler Suprema?
The owner of the Adler Yacht also maintains and operates a fleet of charter planes, and we were first approached by them to consider their brief for a totally new yacht with outstanding efficiency and hybrid diesel-electric propulsion. It is difficult to make a new impression in a market where there is one mainstream "look", so it was very inspiring to try something completely new, and it was a challenge we were happy to accept.
Would you say you brought elements from your superyacht design experience into theAdler Suprema project?
At Nuvolari-Lenard, we design boats from 30 feet to more than 300 feet; as far as we are concerned, a boat is a boat, and the size of the yacht does not change our approach to giving each project its own concept. I want all the boats we design to share one thing: they must be very well finished and the level of detail needs to be the focus, whatever the size. It is what makes it feel luxurious. When you buy a boat, whatever the size, you are more involved in the process as if you were designing and building a house. It's not something that you do over the space of an afternoon like you will do when buying a car where you are simply choosing the color, the interior leather, and the engine. A boat is more complex and it is going to influence the best moments of your life – your holidays – so it's a much more personal experience. I can see this happening for any size of boat or yacht, even a "smaller" one. Adler Yacht produces custom yachts and is not a mass production shipyard, so the client can choose many special features. This was important to us because it is not always possible to have such a degree of customization in this size range, and there are many exacting clients seeking it. The owner of a small boat, of course, is still interested in focusing on the details that go into its construction, just as much as the owner purchasing a yacht that is 100ft longer. It's not that there should be more attention given to a larger yacht but, because the boat is bigger, it takes longer to go through the process as there are more details to select. But the attitude is the same and the shipyard should be able to satisfy the client's requests.
What was the target market you were imagining when you were designing the AdlerSuprema?
The Adler Suprema with her 76 feet was visualized to appeal to a client looking to combine a midrange speed of between 15 and 24 knots with fantastic fuel efficiency, as the size of this market is increasing. Lower fuel consumption is appealing for a lot of people, not only because the running costs are less expensive, but also because it dramatically reduces the necessity to refuel regularly. Refueling adds a lot of stress for many owners because they lose a lot of time in the height of summer when they would rather be cruising. We conceived the Adler Suprema as something that would be attractive to clients who have come from a trawler ownership background. However, the "real" trawler hull form sets you at speeds of around nine knots, which is not fast enough for the owners. A lot of builders have tried to build a fast trawler market, with the hull form of a planing yacht, which is not suitable or efficient. An experienced yacht owner does not often cruise at high speeds because this makes for very
windy conditions when they have family on board. We find yacht owners try to stay around speeds of 22 or 23 knots, which is a very inefficient speed for planing yachts that are designed to travel at35 knots, as the engines and propellers are not running optimally. We created this yacht design for clients who have owned several boats before, and maybe they come from a sailing yacht background but are becoming older so they want to switch to power.They are very experienced people, so they spend a lot of time researching the product and they know exactly what they want.
How was it working with a shipyard to build its first yacht?
Usually, we are used to working with much larger companies. But it is important to try new things to move design forward; otherwise, you are always looking back. At an older shipyard, you can propose different designs but they usually have long-term planning and their own philosophy in construction. You have limited scope to try new things because you must stay on a certain track.We also tried to give this yacht a personality, because it's not just for the boat but also giving personality and "DNA" to the shipyard. With a company like Adler Yacht, you can try new things because they want to grow. For us, it is important to explore new things; so, we found the approach very stimulating in a creative sense.
When you were designing the exterior lines and profile of the Adler Suprema, where did you start?
The starting point for the exterior design was the vertical – or plumb – bow, which is a feature that is not only aesthetic but also provides the maximum possible length at the waterline, a key element for a yacht's efficiency. The plumb bow is certainly a trend in yacht design today, especially on superyachts. But for these much larger vessels, the percentage increase in length you gain moving from a conventional bow to a plumb bow makes relatively little difference in hull efficiency
For the Adler Suprema, the decision to go for a plumb bow was led by its technical advantages
over aesthetic ones. It was the driving factor for the exterior design, and everything else developed from there.
The Adler Suprema has a fully-carbon superstructure; why did you choose this material?
This was something that the shipyard was keen to explore to reduce weight. A planing or semi-planing boat needs to "take off", just like an airplane; in general, the lighter it is, the better.Additionally, for any yacht design, the best place to reduce weight is higher up, to improve stability at anchor, so I always recommend this with a yacht's design.
How long was the testing being carried out before you finalized the design?
With the design of any completely new product, the design time is very long. We started out with a blank piece of paper, and everything was focused on design drawing for the first 18 months of the project. After that, we started testing the hull and making the models.
Are there any particularly remarkable living area features on the Adler Suprema?
Yes, there are two that stand out. Firstly, the large sliding side doors in the saloon give you that"inside-outside" feeling that is often missing on boats in this size range, where there is a large interior but relatively little space on the aft deck. I have spent a lot of time cruising during theMediterranean summer, and you hardly ever spend time inside or use the air conditioning; you want shade from the sun, but you also want to feel connected with the outdoors. By adding the large windows, we have created a very attractive open area which is the main layout feature for a boat of this size.Another feature that maximizes space is the introduction of two large sliding louver frames in place of curtains, which gives the interior a Caribbean house style, offers protection from the direct sun and the wind. You can open one side or both sides and it gives you a lot of flexibility.
Which is your favorite area of the Adler Suprema interior and why?
I spend a lot of time on boats myself and, in terms of layout, I love the wheelhouse. On many otheryachts, if you are in the wheelhouse you cannot have any company because there is nowhere elseto sit, so I like the sofa area we included. I like the fact that the wheelhouse is self-contained. Many marina boats or conventionalMediterranean-style yachts open the wheelhouse to the saloon, which is good if you are sticking tomedium or short range cruising; but for longer ranges, this is not practical. The owner will want anindependent wheelhouse, because they will often be travelling mid-season or when it is dark atnight, and they would be disturbed by the saloon's lights if it were open. If you want to use the boat for true long-range cruising over more than a few weeks, your boatbecomes like your house. For a retired couple, often the husband will still need to have a smalloffice space for a computer and paperwork. With this independent area, it can become your privateoffice space when you have guests on board, where you can have some peace and space withouthaving to go to your cabin, which is not comfortable.There is a very convenient day head in the wheelhouse, which is reassuring because you don'thave to spend time away from the helm to go downstairs to use the bathroom. It is also very usefulfor when there are guests on board because you don't have to send them down to intrude on yourprivate space in the cabins should they wish to use the bathroom or wash their hands. This dayhead feature off the wheelhouse is very practical and convenient.
Would you say you have considered the day-to-day activities of the owner more than usual on the Adler Suprema?
We gave as much consideration as we normally do for any project, but the difference with thisyacht is that it caters to a very specific niche where the clients expect certain elements within thedesign. The people who want a boat like the Adler Suprema 76 are seeking long range, mid-speedand possibly hybrid propulsion. If you offered the same combination of features to the widermarket, you would likely be less successful than with the targeted approach. I think this is a goodway to start a new yacht brand, with a niche market in mind, and it will be the successful businessstrategy for newcomers to the industry.
During the boot Düsseldorf, Adler Yacht (respectively Hybrid Marine Solution – an affiliated company) presented a full-electric tender that fits perfectly on the bathing platform on the Suprema. The tender is made of carbon and a top speed of 100 km/h. The electric boat uses battery technology by Kreisel Electric – the company that presented a full-electric Mercedes G-Class for Arnold Schwarzenegger.
SHARING IS CARING - THANK YOU!
About Publisher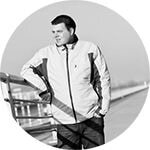 Ahoy, I'm René, the "captain" of this luxury yacht blog, and found my passion for the big ones at the age of 17. I have grown up with sailing since a little child. I have an education in Business Informatics and specialized in digital media solutions (alongside luxury yachts) like Online-Marketing, User Experience Design et cetera. My home port is in Oldenburg, Germany next to Lürssen and Abeking & Rasmussen. More about yachtemoceans