Royal Huisman presents the 58m high-performance sloop Ngoni that wears correctly the byname "The Beast" - penned by the late Ed Dubois.
Photos were taken by Breed Media
Ngoni is one of the most innovative designs that come to real life. I like those owners who bring courage into the superyacht industry to realize those progressive projects. The owner is a highly experienced yachtsman and offshore racing sailor. The design brief said that the owner wanted a luxurious cruising go-anywhere yacht with high-performance DNA. I haven't been on board, but I think the project stakeholders delivered precisely that. The statement of requirements in a nutshell:
"Build me a beast. Don't build me a wolf in sheep's clothing. This has to be an edgy and innovative weapon; fast and furious."
Owner of the yacht
Royal Huisman's subsidiary company RONDAL built the impressive 71m carbon-fiber mast with components by Carbo-Link.
Even the style-to-order performance furling boom with a length of 24m could be a big boat by itself and reflects Ngoni's profile design.
The haute couture is most excellent 3 Di canvas, tailored by North Sails The yacht wears a total sail area of 1,950 sqm (upwind) and 3,093 sqm (downwind).
The garderobe contains:
Ed Dubois (1952 – 2016) said:
"The bigger the model, the more accurate the results, because you can scale everything except the viscosity of water. Our aim is to reduce the wetted surface to minimize drag, while still retaining good stability. The hull lines will be finalized by November following the results of the tank tests."
A Williams 565 jet tender is stored forward under the flush deck. A hidden crane moves the dinghy in or out of the water. The foredeck also contains a pool and enough space set up a sunbathing area with sunshade. Guests can enter the tender via the beach deck with the fold-out swimming platform and an inviting staircase to the cockpit.
NGONI's Interior design is a creation by Rick Baker and Paul Morgan with signature furniture pieces by Francis Sultana. The full-beam owners' suite at the aft features direct access to the beach deck, a gym, and a study that transforms into further guest areas alongside the two permanent cabins.
"Accent pieces and exotic finishes will be created in the workshop of London-based Rick Baker Ltd. Having been involved in some of the most high-profile projects on the planet, The Light Corporation has been asked to artfully shed light on the project."
The deckhouse has two distinct areas. The front part is dedicated to the crew with navigation desk and direct access down to the crew area with the mess, galley, and six double crew cabins. The rear part is a socializing area with coffee table seating, dining, and a bar.
Ed Dubois:
"Given their reputation for excellence, Royal Huisman was the owner's choice of shipyard from the very start.This is a thought-provoking design that does not take for granted the marriage of high performance, style, and comfort. She's a design that marks a fresh and progressive turning point in our long and successful history. This is some yacht, inspired by a client looking for the next new, new thing; a dream project for both designer and shipyard."
Alice Huisman:
"A great client, a great design team, and a great project. Everything about this project has our name on it: Royal Huisman is the perfect fit for every aspect of the project and the requirements to build it."
Main Specifications of
NGONI
Profile & General Arrangement
Last but not least: Interviews with the naval architect and interior designer of Ngoni
Naval Architect Ed Dubois
ED: The owner wanted me to take a fresh look at large yacht design. He wanted me to go back to my roots in the late 1970s and '80s when we were designing race boats, but he also knew we had designed a number of high-performance yachts that were nevertheless seaworthy and comfortable cruisers. So I had to reset my internal computer, if you like, and look hard at how we could save weight and add strength. That's how the reverse sheer came about.     
Can you explain the concept behind the reverse sheer?
ED: Think of a sloop as a bow and arrow: the bow is the hull, the arrow is the mast and the string is the forestay and backstay. You can imagine that tension creates an awful lot of bending moment, which is fine if you can compensate with a strong, deep beam in the structural sense, but the Beast has a relatively low freeboard and shallow beam with no structural superstructure. Then you make the situation worse by making holes in the deck for tender bays, sail lockers, and hatches – metal that would usually resist the compression in the deck. You can overcome that by adding a substantial sheer strake and Ngoni has a top plate of solid 35mm aluminum that acts like a ring beam around the hull, but it's still a struggle to come up with the required stiffness. So then I started thinking about a reverse sheer, which is much like the structure of a bridge where the road is convex to resist the compression created by the weight of the traffic. We ran it through our structural analysis program and suddenly we had a 12 percent increase in stiffness for the same weight. It's something you sometimes see on high-performance boats like Samurai, but this is the first time I've designed a sailing yacht with a reverse sheer.
It also affects the exterior profile, of course. Was the owner happy with the look of the boat?
ED: He wanted a yacht that was fast and punchy without losing the concept of a world cruising boat, which allowed me to think outside the box and defy convention. I remember when he initially came to the office I sketched out a design and he said, "It's OK, but a bit ordinary. What are you going to do now?" I went away and came up with the reverse sheer, but was worried he might not like it. The next time we met in London I showed him the design and he loved it – in fact, he gave me a big bear hug! Actually, Ngoni has a convex sheer at the maximum bending moment amidships that transforms into a concave sheer aft, which looks more attractive and provides better visibility from the cockpit.
To what extent were you involved in the interior layout and design?
ED: With all our designs – except Twizzle, because we joined the project later – we've developed the initial space planning. As naval architects, we know where the primary elements such as the mast, the keel box, and the engine room should be. The associated structures around these have a profound effect on the interior layout, especially on a sailing boat. I also very much enjoy dealing with the architecture – as opposed to the naval architecture – of a boat: the flow from one space to another and the lifestyle the owner enjoys (or endures!) on board. So we created the general arrangement and introduced some of the curved shapes into the interior, which provided the template for the interior designers Rick Baker and Paul Morgan.
There is a fine distinction between speed and comfort; does that mean compromises had to be made?
ED: I prefer the word "balance" to "compromise". To produce a balanced design you have to understand the true purpose of the boat from the owner's perspective. That means you have to get to know him or her well enough to understand what they really want, which is not always easy as some owners have very clear ideas and others are not too sure. The owner of Ngoni is an experienced sailor who has raced in the Fastnet and Sydney-Hobart, and he knew I understood both the racing and cruising side. Like Frers and Briand, I started my career designing race boats and then transferred into large cruising yachts, so my job as a designer today is to get the right balance of speed, seaworthiness and long-range cruising ability based on the owner's brief. I don't think you can do that successfully unless you've sat for hours on the weather rail of a boat you've designed yourself and got cold and wet and possibly frightened or felt the excitement when you win and disappointment when you lose. You learn how a sailing boat behaves in all conditions on the race course – it is that experience that has given me the confidence to design a large sailing yacht and be pretty certain it's going to work.
Given the need for speed, was a carbon fiber hull ever considered?
ED: It was, briefly, at the very beginning. The owner wanted to know about all the options and we presented him with comparisons in terms of weight, cost and build times. But there were other considerations at stake: sure, we could make a lighter and faster boat out of carbon, but would it be as comfortable and suitable for world cruising? Carbon hulls have a more aggressive motion at sea, which beyond the issue of seasickness is not very comfortable for long-range cruising. They also tend to be noisy, so some of the weight you've saved goes back on the boat as acoustic insulation. Again, it all came down to balance: understanding the true purpose of the yacht and coming up with the right formula, which is the delicious thing about being a designer. It's like the satisfaction you get from solving a complicated mathematical equation. And people put their trust in you and pay you do it!
Interior Designer Rick Baker Ltd.
Please introduce yourselves
Rick Baker Limited is a bespoke cabinetmaking company which is very firmly art based. Both myself (Rick Baker) and co-director, Paul Morgan, have been through the art college system – I studied illustration and fine art, and Paul originally started off studying architecture before transferring to furniture design and manufacture.
In my twenties, I moved into furniture design and it did not take too long before we became involved with clients that were looking for originality of design and exemplary workmanship. As the company has grown, so has our reputation for producing quirky one-offs.
We employ twelve cabinetmakers and are fortunate to have never needed to advertise for work.
What brief were you given?
We have worked on many projects for these clients, and they asked if we could come up with a scheme for the interiors for the yacht. We were obviously delighted to be involved and had a series of meetings to determine the brief and direction for the yacht styling.
What was your initial reaction?
The design of the yacht is so unique, and it is obviously very exciting to be part of the team working on such a 'one-off'. The curved shape of a yacht calls for a different approach – we have made a lot of curved furniture, but it was always to fit into square rooms!
Did the brief present any opportunities?
Yes, it was fantastic to meet the team involved in the building of the yacht. It has given us great insight at the highest level. It has also been very interesting to see how the boatyard approaches manufacture generally.
This project also presents us with an incredible opportunity to bring some new ideas to the more traditional styling of many current yachts.
Are there challenges to overcome?
The main challenge comes from the fact that, although we have designed and made freestanding pieces for motor yachts in the past, we have never been asked to design the complete interior of a sailing yacht.
But this also means we can challenge the status quo. We design with only half an eye on what supposedly can or can't be done on a yacht, then, with the advice of Royal Huisman, we resolved most problems together.
What are the steps between brief and delivery?
We have a relatively simple design process which starts with a client meeting where we throw lots of ideas into the air – we land some of those ideas and we write copious notes. We then work on visuals and scale drawings to present to the clients and then rework those drawings with the design development that has come out of that meeting. We have been fortunate to work closely on several projects for these clients and have developed an understanding of their ideas, likes and dislikes.
How do you collaborate with the project team?
We had initial design concept meetings with Ed Dubois and Royal Huisman to agree to a strategy. And, as I have already mentioned, we work with Royal Huisman to make sure our concepts are fit for purpose as part of a superyacht interior. Also, the experience and advice from Goddy (Project Manager) and Iain Cook (Build Captain) have been invaluable.
Is there an overall 'theme'?
The yacht is a total one-off, with a unique design by Ed Dubois, and the interiors had to reflect the same state of the art design. So we have consciously avoided giving the yacht a theme but rather chose to make the different areas very individual. It was important to us to not let the craft feel like a hotel and to avoid repetition in the cabins etc.
Are you using any unusual materials?
Innovative design still has to be practical and visually comfortable. The 'standard' response would be to mix high-sheen lacquer and hardwoods. Instead, we have selected some specialist finishes which would not normally be associated with a contemporary yacht. These include artisan resin panels and metalized spray and lacquered textured effects.
Have you learned anything?
Having been involved in such a wonderful project has given us a different way of seeing and designing, although of course not all of that can be applied to domestic interiors. It has encouraged us to consider new rhythms of furniture design.
How do you think people will react?
I believe that other people will enjoy slowly observing the yacht and interiors when they first board – in the same way, that people attune themselves to understand abstract art. They will inspect carefully and hopefully understand and warm to their surroundings.
Can you sum up the project in a few words?
It has certainly been, quite literally, a learning curve. Our voyage on land with the team has been educational and we hope the journey continues and that the yacht proves itself to be something really special – 'The Beast' of speed and fun.
Update January 28th, 2018: NGONI won two awards at the Boat International Design & Innovation Awards 2018 in Kitzbühel: Best Naval Architecture & Best Exterior Styling Sailing Yachts.
Launch and Construction Impressions
SHARING IS CARING - THANK YOU!
About Publisher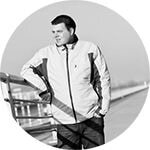 Ahoy, I'm René, the "captain" of this luxury yacht blog, and found my passion for the big ones at the age of 17. I have grown up with sailing since a little child. I have an education in Business Informatics and specialized in digital media solutions (alongside luxury yachts) like Online-Marketing, User Experience Design et cetera. My home port is in Oldenburg, Germany next to Lürssen and Abeking & Rasmussen. More about yachtemoceans