Feadship's Dunes: An 83m low energy superyacht with asymmetrical superstructure.
Dunes represent a significant stride toward Feadship's objective of achieving Net-Zero superyachts. Like a complex 3D puzzle, its intricate design integrates various features that curtail energy demand, enhance efficiency, and eliminate emissions. The amalgamation of several factors, such as shaded windows to reduce cooling requirements, next-generation storage batteries with extra capacity, eliminating teak decks, a novel type of fuel cells, and a radical propulsor, synergistically contribute to a beneficial design spiral. While each element individually reduces the environmental impact, their collective implementation in Dunes substantially reduces a superyacht's environmental footprint without compromising the cruising experience. The Yacht Environmental Transparency Index (YETI) tooling comprehensively evaluates Dunes. It reveals that it eliminates up to 95% of the potential adverse environmental factors associated with operating a superyacht compared to a yacht that meets the minimum environmental regulations in place today.
Subsequently, a barrage of inquiries emerged. What if the engine room were not situated in the central area of the yacht? What if the guest staterooms were granted direct access to the beach club? What if we relocated the bridge, as seen in Concept Pure (2021)? What if the fuel cells no longer necessitated hydrogen storage tanks? What if an entire multipurpose deck were incorporated? What if we modernized the passive ventilation system of Concept Breathe (2010)?
What if the superstructure exhibited asymmetry? What if the decks themselves could generate electricity? Indeed, these and other queries prompted the development of novel solutions for longstanding issues. The ripple effects of a single alteration – shifting the engine room from its traditionally comfortable location to forward areas – presented the opportunity for an entirely new arrangement, wherein elegant lower deck guest suites seamlessly connect to a remarkable beach club, water sports platform, and the pool situated above.
This also eliminates the potential intrusion of large engine room air and exhaust trunks into the saloons or the imposition of stairway placement. Electric yachts do not require massive gearboxes, lengthy shafts, or propellers. The electricity-generating fuel cells, battery banks, and power management stations can be decentralized and conveniently located anywhere suitable for the crew. Speaking of convenience, it is feasible to have a virtual helm station or command center on the lower deck adjacent to the crew quarters rather than several decks away, where it would compromise the space intended for the owner and guests.
Regarding aesthetic inspiration, Studio De Voogt focused on the undulating waves in sand rather than water. Observing how dunes are never static, with their ripples and valleys appearing to shift with the play of light and shadow, the designers explored line, flow, and adaptability concepts. The undulating curves of dunes emerged as a backdrop for the desired onboard lifestyle of today's owners, featuring adaptable and multi-purpose spaces, unobstructed views, and a combination of open-plan areas and cozy, intimate rooms. Surrounding guests with design elements inspired by nature allows them to relax further once they step onboard.
Sustainability encompasses more than the mere regulation of exhaust emissions. In light of an international agreement that prohibits the importation of old-growth Burmese teak by major yacht-building nations, as well as the growing demand for plantation-grown teak surpassing its supply, it is imperative to adopt a responsible stance. Dunes, on the other hand, is free from teak. Feadship is currently testing two new luxury decking systems that align with this principle.
Externally, the yacht's decks are adorned with teak-free surfaces composed of countless small glass or stone chips encased in transparent aliphatic polyurethane resin. The resin surface can be shaped into various forms to indicate direction or enhance the impact of built-in features. The designers have envisioned alfresco lounges resembling islands on the decks and have adorned them with beautiful golden maple wood, a sustainable teak alternative. The long aft overhangs are supported by a remarkable single column clad in maple, which unites decorative sections of maple above and below.
It is worth noting that the uppermost Pavilion Deck structure is constructed from wood. This choice is not a mere nostalgic reference to the past but a decision based on scientific reasoning. Treated timber is a building material that absorbs more CO2 than it emits and possesses excellent natural insulation properties. These advantages and the material's aesthetic appeal do not come at the expense of increased weight. The Pavilion Deck is an innovative concept enclosed by glass, separating a forward sun and Jacuzzi area from a more casual dining and conversation space at the rear. It can be customized for formal indoor dining or serve many purposes, ranging from a nightclub to a conference room. Circular stairs lead from this area to the yacht's distinctive feature, a striking 10-meter mast. Beyond its visually unique design, the mast serves an important technical function.
Further reducing the energy needed to cool the yacht, the mast is part of Studio De Voogt's Cool Core Concept. Like a desert house, Dunes is divided into temperature zones. Sleeping quarters are excellent (19-20 degrees), social areas are 22-23 degrees, and the Pavilion estimate is 24-25 degrees. The Pavilion is cooled using air drawn up the central staircase from other parts of the ship as if by magic without fans and ducts. It is not magic but simple physics that makes it work. The mast shape is a triangle of convex and concave foils. It sits on a large bearing ring that allows it to align with the direction of the wind. As the breeze crosses the mast, its shape generates a low-pressure zone on the lee side, naturally pulling the slightly over-pressurized cooled air from lower decks to this level. With the large overhangs, optimized recirculation, and increased insulation throughout, Feadship calculates that HVAC energy use is reduced by 35 percent annually.
As they say, the wind is free, and so is the electricity generated by a wind turbine or the sun. Feadship engineers devised a slim, two-blade vane that nearly disappears in the mast structure. Used only at anchor, this turbine can yield about 25 MWh annually. We imagine Dunes's foredeck coated with a thin film solar panel. Called solar paint, this technology is in its infancy, and its efficiency today is low. Currently, the effect is the proverbial drop in the ocean. But then again, why not collect it?
A genuinely innovative propulsion system has emerged for the first time since replacing paddlewheels with screw-type propellers on steamships in the 1840s. ABB has introduced the ABB DynafinTM, a groundbreaking high-efficiency electric propulsion system unveiled in May. After ten years of development and testing, the ABB Dynafin™ utilizes vertical blades that rotate to replicate the thrust of a whale's tail, known for its exceptional efficiency. The prototype is expected to be available in 2025, with a hydrodynamic efficiency target of up to 85 percent. This is a significant improvement compared to the current pod drives, which have an efficiency of 65 percent, or the typical propellers on shafts, which range from 55 to 60 percent. An independent study evaluating different propulsion solutions on a passenger vessel design has confirmed that the ABB Dynafin™ can achieve energy savings of up to 22 percent in propulsion energy consumption compared to conventional shaft line configurations.
The ABB Dynafin™ propulsion system will be powered by electricity from equally revolutionary solid oxide fuel cells that utilize green methanol as a reaction agent. Unlike other fuels, methanol can be easily converted to hydrogen in a single step and does not require cryogenic storage. Feadship considers green methanol, produced from non-fossil-fuel sources, the optimal fuel choice due to its relatively high energy density and ease of storage.
"Contrary to the common assumption that using methanol means more than two times the fuel storage volume, on Dunes, we have so many power savings that we actually need less storage volume compared to a regular diesel fuel yacht," said Senior Specialist Bram Jongepier.
Feadship is taking a significant step towards sustainability by adopting a "low impact" approach to the construction process, which involves using environmentally friendly steel and aluminum for hulls and superstructures. This move is aimed at reducing the CO2 impact of the build, which is primarily attributed to these components. By utilizing certified metals with high scrap content and sustainable energy in manufacturing, Feadship can produce these materials with 50-70% less CO2 emissions. Notably, Feadship has already incorporated low-impact aluminum into one of its vessels under construction, making it a standard material for all future new builds.
SHARING IS CARING - THANK YOU!
About Publisher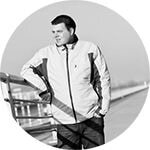 Ahoy, I'm René, the "captain" of this luxury yacht blog, and found my passion for the big ones at the age of 17. I have grown up with sailing since a little child. I have an education in Business Informatics and specialized in digital media solutions (alongside luxury yachts) like Online-Marketing, User Experience Design et cetera. My home port is in Oldenburg, Germany next to Lürssen and Abeking & Rasmussen. More about yachtemoceans